Details
Starts: Thursday, June 28th 1:00pm


Ends: Wednesday, July 18th 1:00pm


236 Duke Pkwy
Hillsborough, NJ 08844
View Map?



Auction Type: Online Auction

Categories: Online Auctions
Online Bidding
BID ONLINE OR IN PERSON FOR THIS AUCTION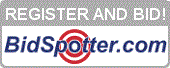 Contact Information
Contact: Sales Dept
Company: Industrial Auction Services, LLC
Address: 60 Liberty Street, Metuchen, NJ 08840
Phone: (848) 229-2500
Fax: (732) 548-5251
Description
Well Known Woodworking & Cabinet Manufacturer
Featuring :
Brandt Optimate Mod. KD -77C Edgebander w/ Corner Rounding

Scheer Type FM16 3100 Automatic Panel Saw

SCMI Mod.S116WA Sliding Table Saw

Guardian Garda Enclosed Paint Booth

Ramco Mod.36 37"Belt Sander

Crouch Mod. 205 6" x 60" Edge Sander

Dodds Mod. SE-15 Dove Tailor

Ayen Mod.SK-38FD 32MM Boring Machine

Ritter Mod. R-250 6' x 12' Face Frame & Cabinet Door Clamp

Rockwell Delta Table Saws & SECO Mod.SK-38FD Power Feeder

Grizzly Mod.G418 Boring Machine

Blum Minipress "MSP" Hinge Boring Machine

Plus Much More To Be Sold !!!

Payment Methods
Wire Transfer, Bank Check, Credit Card, Cash
Auction Item Removal
Friday July 27th 2018 with No Exceptions